Active Receptor Activator Of Nuclear Factor Kappa B Ligand (RANkL)
CD254; TNFSF11; ODF; OPGL; TRANCE; HRANKL2; SOdf; Tumor Necrosis Factor(ligand)superfamily Member 11; TNF-related activation-induced cytokine
Product No.

APA855Mu01

Organism SpeciesMus musculus (Mouse)Same name, Different species.
Buffer Formulation

20mM Tris, 150mM NaCl, pH8.0, containing 1mM EDTA, 1mM DTT, 0.01% SKL, 5% Trehalose and Proclin300.

Traits

Freeze-dried powder

Purity

> 90%

Isoelectric Point

7.1

Applications

Cell culture; Activity Assays.

DownloadInstruction Manual
UOM10µg50µg200µg1mg5mg
Packages (Simulation)

Packages (Simulation)
Figure. SDS-PAGE

Figure. Western Blot
ISO9001: 2008, ISO13485: 2003 Registered
ACTIVITY TEST of the Active Receptor Activator Of Nuclear Factor Kappa B Ligand (RANkL)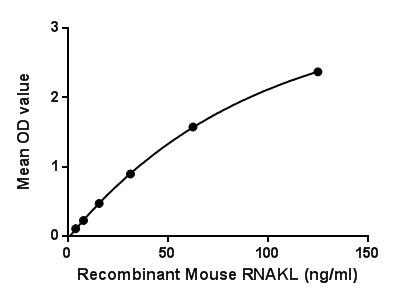 Figure. The binding activity of RANKL with PPARg.
Receptor activator of nuclear factor kappa-B ligand (RANKL), also known as tumor necrosis factor ligand superfamily member 11 (TNFSF11), TNF-related activation-induced cytokine (TRANCE), osteoprotegerin ligand (OPGL), and osteoclast differentiation factor (ODF), is a protein that in humans is encoded by the TNFSF11 gene. RANKL is a member of the tumor necrosis factor (TNF) cytokine family, it binds to RANK on cells of the myeloid lineage and functions as a key factor for osteoclast differentiation and activation. It may also bind to osteoprotegerin, a protein secreted mainly by cells of the osteoblast lineage which is a potent inhibitor of osteoclast formation by preventing binding of RANKL to RANK. RANKL also has a function in the immune system, where it is expressed by T helper cells and is thought to be involved in dendritic cell maturation. This protein was shown to be a dendritic cell survival factor and is involved in the regulation of T cell-dependent immune response. Besides, Peroxisome Proliferator Activated Receptor Gamma (PPARg) has been identified as an interactor of RANKL, thus a binding ELISA assay was conducted to detect the interaction of recombinant mouse RANKL and recombinant mouse PPARg. Briefly, RANKL were diluted serially in PBS, with 0.01% BSA (pH 7.4). Duplicate samples of 100uL were then
transferred to PPARg-coated microtiter wells and incubated for 2h at 37℃. Wells were washed with PBST and incubated for 1h with anti-RANKL pAb, then aspirated and washed 3 times. After incubation with HRP labelled secondary antibody, wells were aspirated and washed 3 times. With the addition of substrate solution, wells were incubated 15-25 minutes at 37℃. Finally, add 50µL stop solution to the wells and read at 450nm immediately. The binding activity of RANKLand PPARg was shown in Figure 1, and this effect was in a dose dependent manner.
USAGE of the Active Receptor Activator Of Nuclear Factor Kappa B Ligand (RANkL)
Reconstitute in 20mM Tris, 150mM NaCl (pH8.0) to a concentration of 0.1-1.0 mg/mL. Do not vortex.
STORAGE of the Active Receptor Activator Of Nuclear Factor Kappa B Ligand (RANkL)
Avoid repeated freeze/thaw cycles. Store at 2-8°C for one month. Aliquot and store at -80°C for 12 months.
STABILITY of the Active Receptor Activator Of Nuclear Factor Kappa B Ligand (RANkL)
The thermal stability is described by the loss rate. The loss rate was determined by accelerated thermal degradation test, that is, incubate the protein at 37°C for 48h, and no obvious degradation and precipitation were observed. The loss rate is less than 5% within the expiration date under appropriate storage condition.